Cartagena
With cobblestone streets and colorful mansions, it's hard not to be immediately charmed when you set foot in Cartagena. If the Caribbean getaway you're after is complete with breezy, quiet days by the ocean and taking pleasure in solitude – this is not the place for you. The palm-lined plazas that fill the walled city are humming with people at any hour of the day, and you would be remiss to not catch a salsa party or eat a world-class arepa in one of the squares during your stay.
With Cartagena's increasing popularity has come an influx of awareness around tourism. The city has become much safer, but it is also much more geared towards visitors. That means a growing number of vendors crowding the streets to sell their goods and climbing prices for locals and tourists alike.
Though most people will tell you to stick within the limits of the old city and its beautiful homes, the probability of you getting woken up by a group of large, drunk men who just landed for their friend's bachelor party is…high. We usually opt for Getsemani as our home base while visiting the coast. However, with all the gorgeous places to stay in the old city, and the privacy they afford their guests, you can't really go wrong. In fact, Cartagena is one of our favorite places to explore hotels because of the individual boutique lodgings that are housed in old mansions. We sometimes just pretend we are in a Gabriel Garcia Marquez novel (until we realize that we don't, in fact, own a colonial home on the beach and need to log back into our Gmail).
Between the beautiful scenery, short boat trips to stunning beaches, great dancing, and the fact that it's a direct (and relatively painless) flight from most major cities in the Northern Hemisphere, Cartagena is one of our go-to trips for that necessary weekend getaway.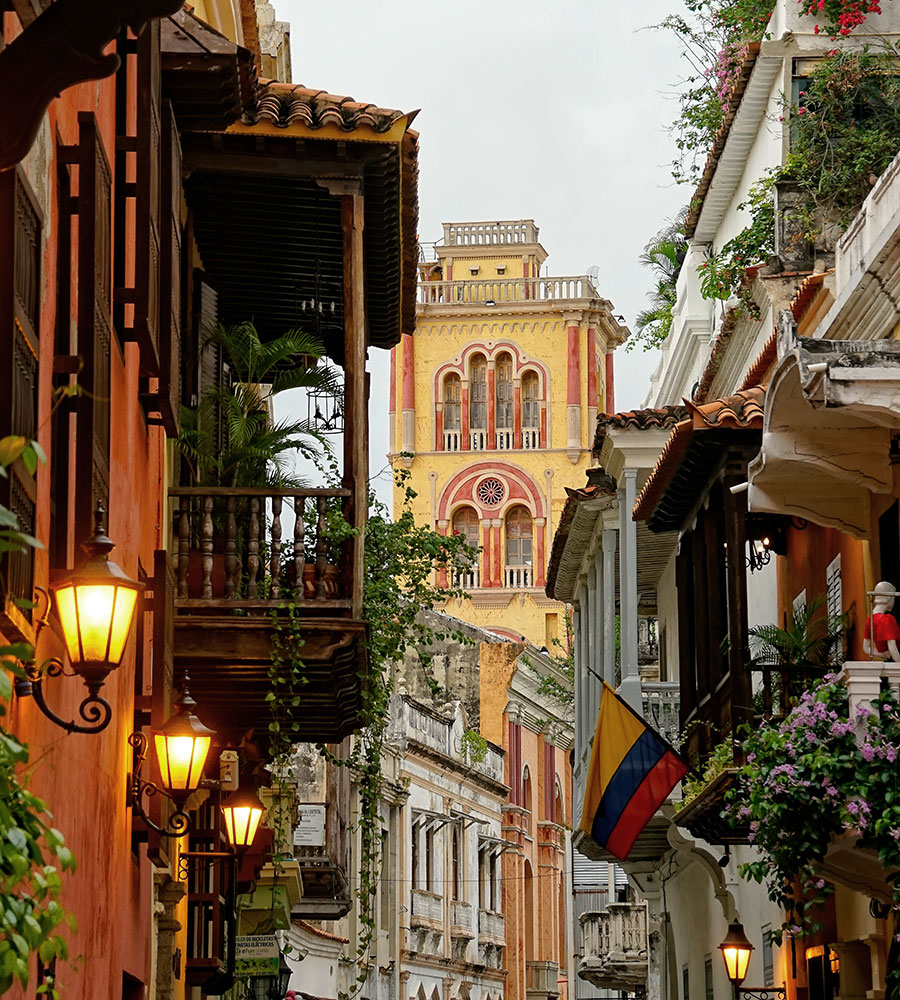 Where to stay
One of our top picks, Casa Don Sancho is housed in a renovated townhouse on the edge of the walled city. We love the location – away from most of the crowds but still in old town – and the 6 bedrooms are spread across 3 beautifully designed floors. Bright rooms and neutral colors give this place a peaceful energy amongst the buzz of colorful Cartagena. Head up to the rooftop patio for sunset.
Right next to Bolivar Park, Casa Alba is an old mansion located in the city's historic center. With an outdoor pool and courtyard garden, this hotel is a perfect option for larger groups or for a romantic getaway. We love the individual decor of each room, ranging from stunning canopy beds to a set of perfectly placed twins. If for some reason the courtyard pool isn't getting enough sun exposure for your perfect tan, just head upstairs to the roof for their second pool and A+ views.
Hotel Capellán is one of our top picks in our neighborhood of choice. The minute you walk in, you get a sense of the Caribbean inspired design elements – beautiful fountains, white cushioned chairs, and dark wood accents. The rooms are bright and airy, and the rooftop pool is second to none. They also have a pretty good spa if you are looking to indulge.
The Tcherassi Hotel is one of the chicer options in the old city. Owned by fashion designer Silvia Tcherassi, you can tell that the minimal, elegant interiors were created by someone with two feet in the design world. With a beautiful pool on the roof, we also come here for one of our favorite spa experiences in Cartagena. Both restaurants in the hotel are fantastic, and we recommend indulging in one if not two dinners on site.
Located in Getsemani, Casa Lola is a great price-conscious choice. This quaint but perfectly styled hotel has a fantastic roof top pool and bar. Down the street from Cafe Havana and Bazurto Social Club, you can dance your way home in about two minutes.
For those of us on a budget, Casa Venita is one of our favorite places to stay in Getsemani. Though it does have hostel-type accommodations, Venita also boasts both queen and king size rooms. With an adorable cafe serving acai bowls and other healthy eats, we opt for the "breakfast included" option. There isn't a better way to start your day.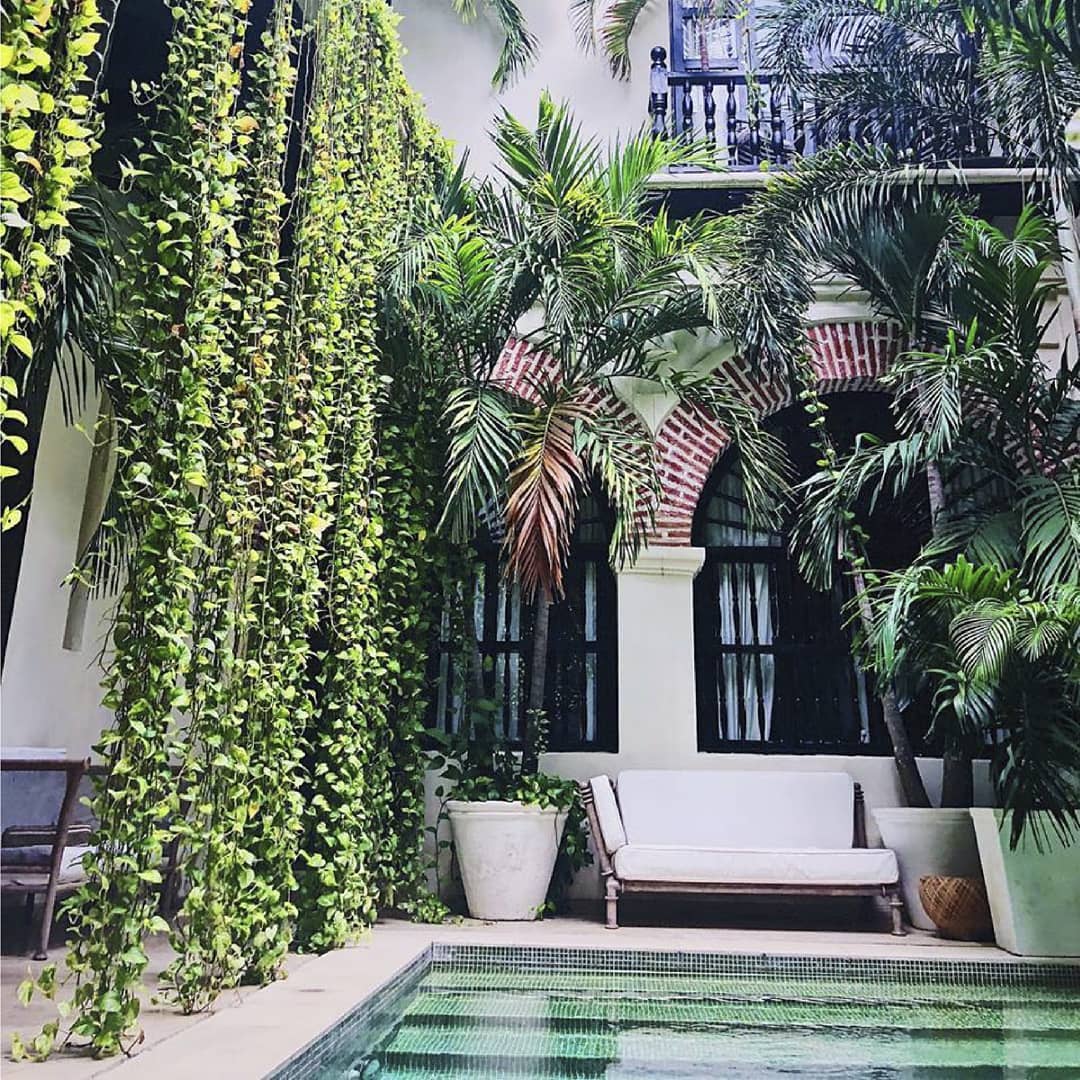 Where to eat
This is our favorite restaurant in Getsemani for a few reasons: the location right on Plaza de la Trinidad gives way to pretty spectacular people watching, the tapas style menu, and the really good cocktails that will start your night off in the best way.
Brought to you by the owners of Colombian institution, Carmen, Moshi is their Japanese sister restaurant. We say go here over Carmen because the tasting menu is where it's at. We think the 7-course is the way to go, but they also have an 11-course option if that's your style (which we would highly respect). The food is inventive and the fish is fantastic. This is a must visit during your time in Cartagena.
A perfect place for a breakfast pastry or a morning bite, Mila is located in the center of the old city. They also have brunch, but it wouldn't be our top choice. We recommend grabbing something sweet and a coffee, and relaxing before kicking off the day in the sun.
Serving high-quality Colombian cuisine, Candé is what we would label "upscale authenticity." This basically means that the traditional food they serve is the real deal, but you are also eating that food while sitting in gorgeous banquets, in a courtyard with plants hanging above you. Definitely make sure there is fish on your table, and you'll thank us for sending you here.
This Getsemani bar was started by two young locals who were in need of a great cocktail bar that would serve quality without the American price tag. Enter Bonche. The cocktails are good, the food is also good (though not necessarily healthy), and you can absolutely find a party here any weekend you visit. You'll meet young locals and visitors alike, and we recommend the burger.
An Australian cafe that most of our America friends will be very excited about. Yes, that means you can find avocado toast, acai bowls, and other vegan-friendly options on this menu. Though we fully admit we are to blame for loving the Aussie health trend – we actually come to Cafe Stepping Stone because of their mission. They work to shrink the gap between the "two Cartagenas," and employ young teens and adults from around the city. They teach them English, how to serve, how to cook and make drinks, and overall hope to jumpstart their careers. Yeah – so go order yourself an almond milk latte and feel really, really good about it.
Street food
On the corner of Carrera 11 and Calle 38 is our favorite arepa stand. Come here in the morning to get a ham, cheese, or veggie arepa freshly made. This is a Cartagena staple and you need to grab one (from any stand) before you leave.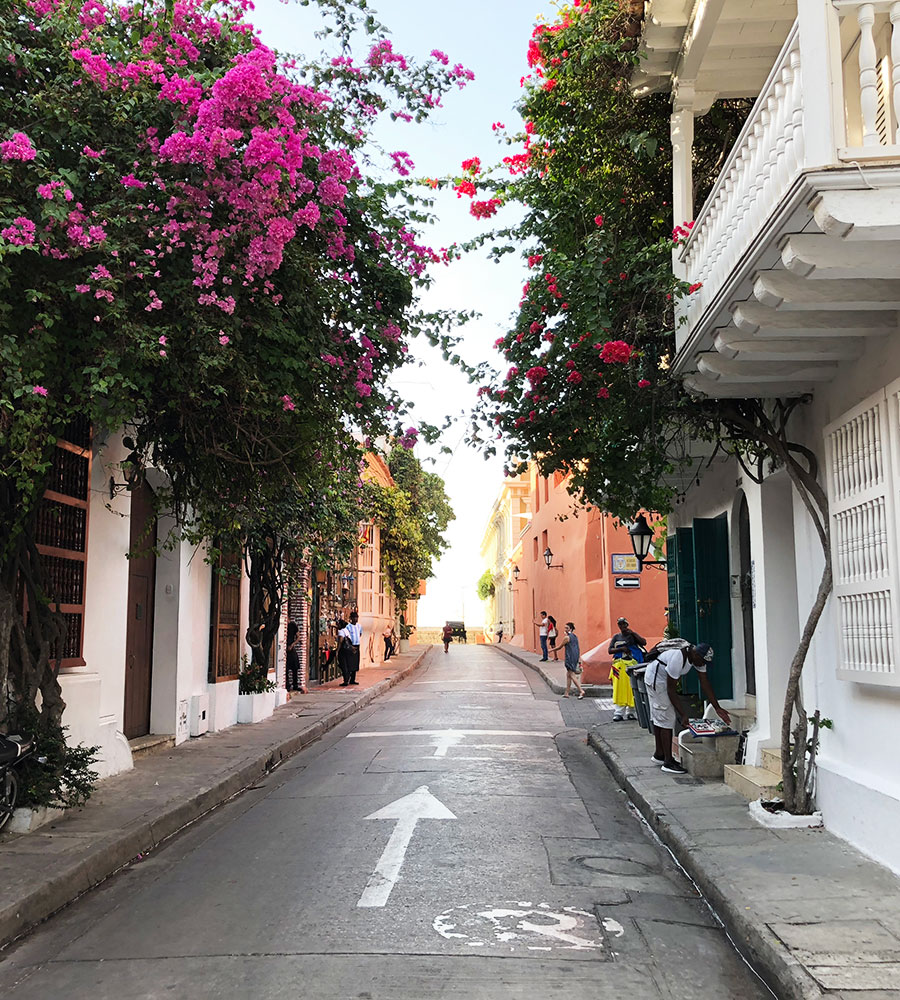 Where to drink
This upscale cocktail bar will feel very familiar to those traveling from America or Europe. Though it's rather small, the romantic decor and great drinks make you feel like you could stay for hours. The bartenders are half the reason to love it here – and they also serve small bites.
This three-floor bar looks like something out of a 1920s novel. Each floor is distinctively designed with beautiful attention to detail. Once a worn down warehouse, the owner has renovated it but kept the integrity of Cartagena architecture. With a first floor bar that gets fairly crowded, a second floor with blue velvet chairs and beautifully tiled floors, and a rooftop patio that plays great tunes – you definitely have options here. All the cocktails are good, but we recommend the mezcal concoctions they do so well.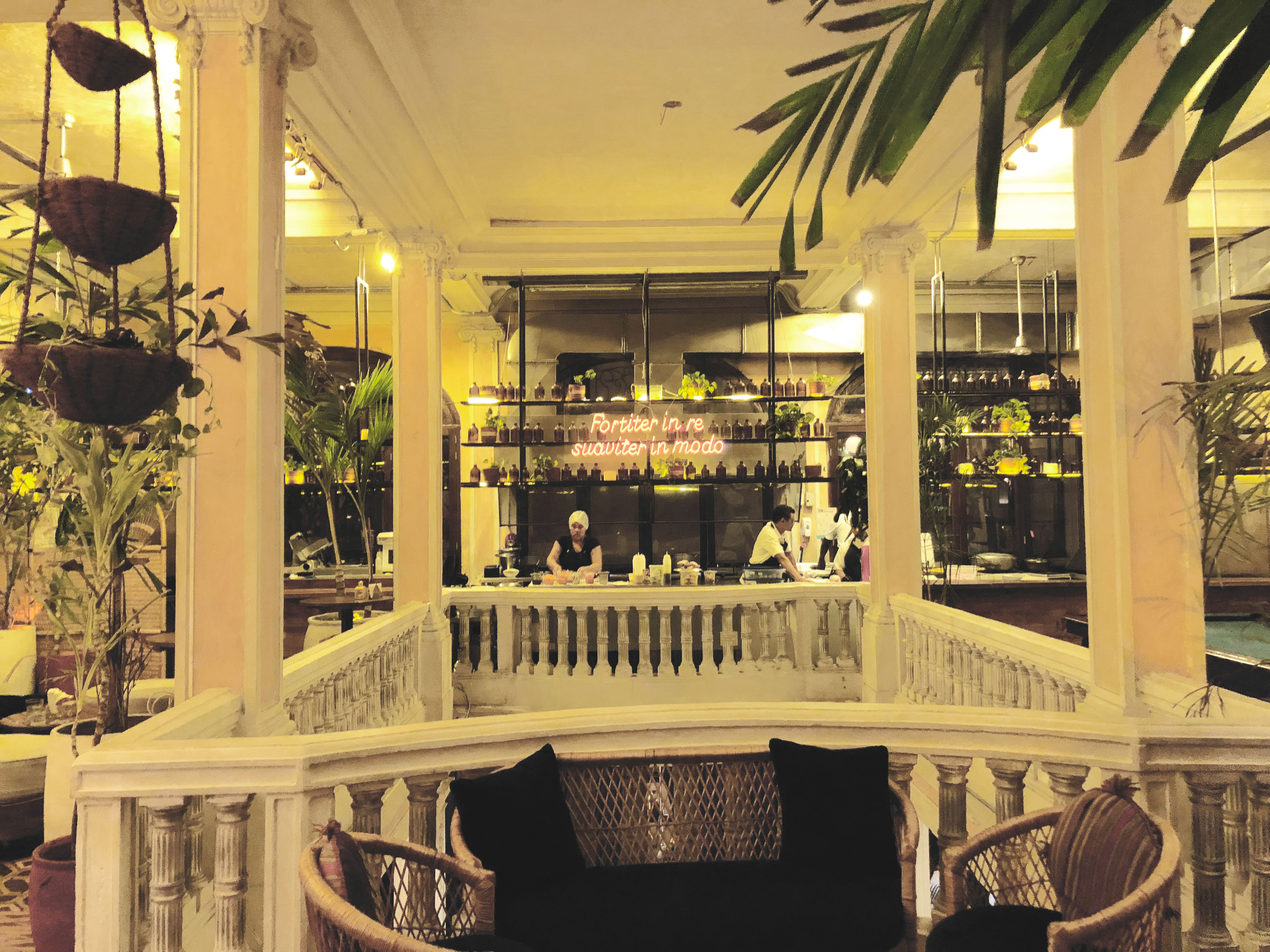 This could technically be put in our "where to dance" category, but being that La Jugada serves wine, and there are so many incredible salsa clubs to shake your thing at in the city, we are leaving it right here. This bar is relatively expensive and is mostly geared towards tourists, but well-heeled tourists. The art deco design and crowded basement prove for a truly great experience.
For those of you that aren't big on cocktails, come to Beer Lovers for some of Colombia's best brews. They serve more than what the country has to offer, but we recommend sitting at the bar and trying what's local on tap.
Where to dance
Hands down, our favorite place to get down. Bazurto has no rules, except the fact that you hit the dance floor with conviction. There are live bands performing cumbia, salsa, reggae, and more. You can dance the night away, or watch the performance and order calamari. This place is pretty much everything you want in Cartagena.
The third of the Getsemani club staples (Cafe Havana and Bazurto being the other two). Though we love Cafe Havana and would put it on our list, we figure that most people in search of dancing will head there. Quiebra Canto is geared more towards the experienced salsa dancers -but that doesn't mean it isn't a good time for everyone.
This isn't where you go to get the local flavor. That said, if you want to listen to some good DJs who play a mix of Latin music and the usual hits – this is your spot. In any other country this bar wouldn't be anything special. In Cartagena, where beautiful cocktail bars are easily found, this straight-forward establishment is a breath of fresh air. Be prepared to find loads of tourists – also be prepared to dance your heart out.
Where to break
A recommendation from Cartagena native, Ernesto Roman, Cafe de la Mañana is a perfect place for a morning or afternoon break. If you need a cup of coffee, a $6 breakfast of eggs, bread, fruit, and juice, or a mimosa midday – this place if for you. Feel free to post up here with your laptop or journal.
On a quiet street in Getsemani, you'll find this adorable cafe. Cafe del Mural takes pride in the coffee they serve. Though Colombia is a huge exporter of premium brew, the country doesn't keep the high-end beans within its borders. This cafe has a mission to showcase the true beauty of Colombian coffee, and serves some of the best cups in town. Take a seat outside and look at the beautiful graffiti art that this neighborhood is famous for.
If you aren't in the mood for caffeine, head to Beiyu Cafe in Getsemani for a smoothie or juice. This adorable cafe has seating inside and great A.C. (which is important in the summer months). They also have reliable wifi – so if you need a healthy snack and an e-mail break, this is your spot.
Our favorite place for iced coffee is Epoca. We get a blended iced coffee and call it a day, but there are so many options at both locations. The food they serve is a great breakfast choice, but you can't go wrong with simply taking advantage of their beautiful interior and a refreshing caffeine fix. Make sure to check hours, as it opens a bit later than most shops.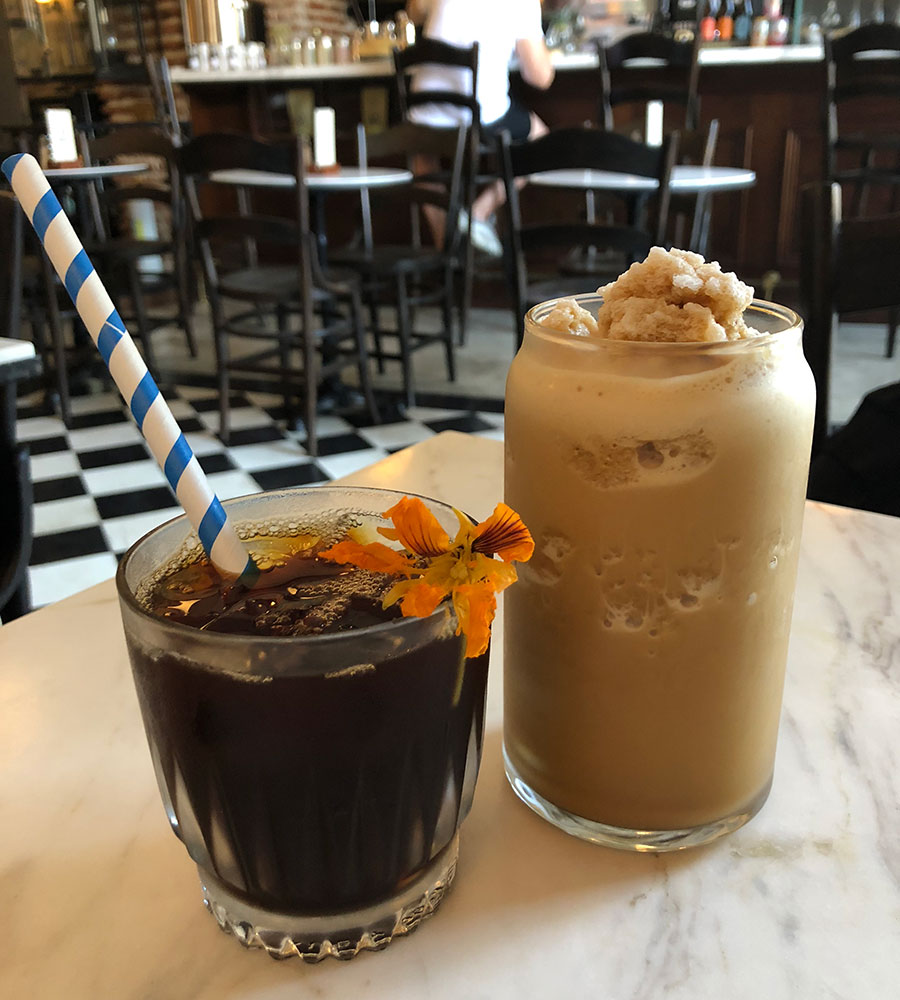 What to do
When people think of Cartagena, they usually think of the beach. You won't find that beach in the city, which is why we are sending you to the Rosario Islands. Technically a national park, the Rosario Islands (or Islas del Rosario) are about an hour boat ride away from the Cartagena port. Feel free to stay overnight at one of the hotels, or just visit the stunning beaches for a day. This is where you can swim in the calm, aqua blue water you dream of when thinking about the Caribbean.
Walk the wall of the walled city
Built in the 1500s, Cartagena's historic walls run 4km around the center of the city. It was previously used to protect the city from pirates, and you can now take a romantic stroll or come here to catch the sunset.
Another beach getaway for when you want to hit the ocean in Cartagena. Closer than the Rosario Islands, Tierra Bomba is easily accessed via boat. If you opt for an overnight mini-vacation, we recommend Blue Apple Beach House. You can also pay for a day-pass to this adorable hotel – but we think you might as well stay a night or two.
Las Bóvedas is a series of 23 structures built into walls that were originally purposed to vault weapons or anything else the Spanish wanted to hide. Later, these same vaults were used as prison cells during the civil war. Very charming. Today, these historical structures are used as markets stalls. Come here to find local goods and souvenirs to your friends back home.
Where to get your hit of culture
When going to Cartagena, you need to visit the fortress that overlooks the city. A 15th-century structure, you can tell that the conquers of this land weren't messing around. Make sure to come here on a sunny day, because it can take a minute to walk around the preserved site.
Exhibiting a fantastic collection of gold pottery, Museo del Oro Zenú showcases the work of pre-colonial times, with a strong focus on the indigenous Zenú culture. Definitely one of our favorite museums in town.
Salsa classes
Technically Cali is the salsa capital of Colombia. Admitting that, Cartagena is still a great place to take classes. Check out Crazy Salsa for to learn some moves. After you've been schooled, head to Cafe Havana or Quiebra Canto to show off your skills.
Colombia has incredible street art. Within Cartagena, the best place to see this is within the Getsemani neighborhood. Walk around the winding streets and discover gorgeous murals everywhere.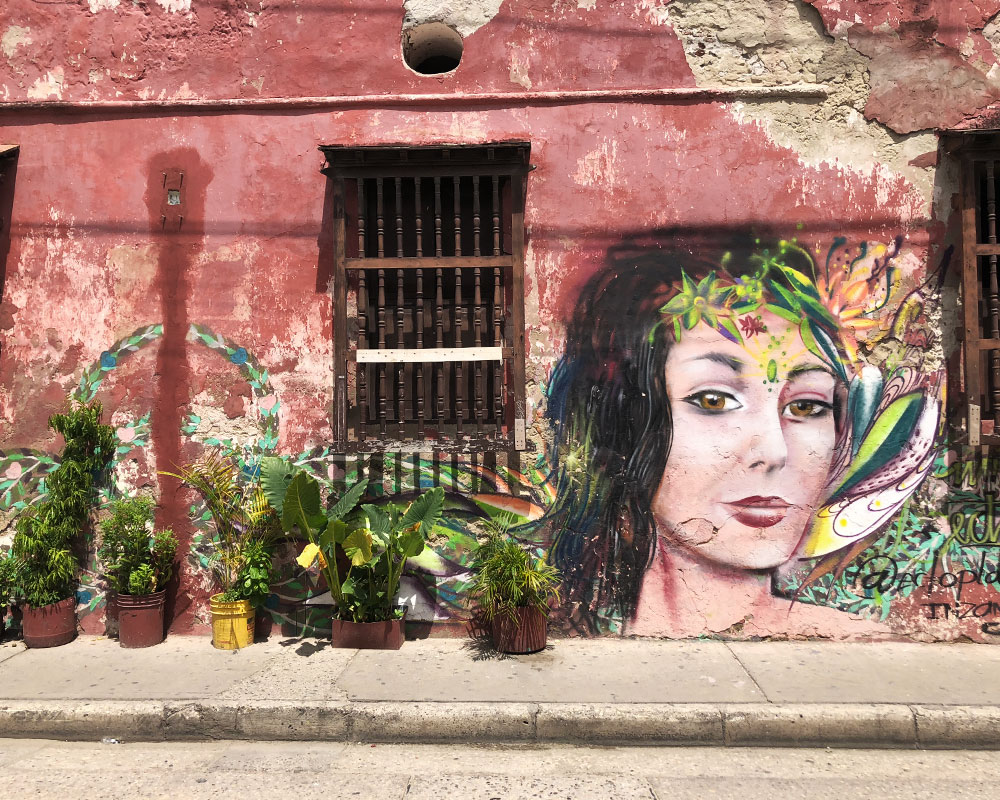 Where to shop
This concept shop is one of our favorites. With over 100 Colombian and international designers, St. Dom has something for everyone. If you forgot sunglasses but don't want to buy the cheap options on the street – St. Dom has you covered. If you need a gorgeous dress that is sure to impress for New Years – St. Dom is your place. You can't go wrong at this multi-faceted fashion mainstay.
With stores in Miami, Madrid, and Cartagena, Silvia Tcherassi is a household name. Making the "Latin flair" look exponential more popular, Silvia is also a hotel owner and overall Colombian chic-queen. If you need a dress for a wedding, party, or really anything at all, check out her store.
If home furnishings are what you're after, come to El Arcón to find adorable antiques. It's also one of the only places we found you could buy the famed door knockers you see throughout the city.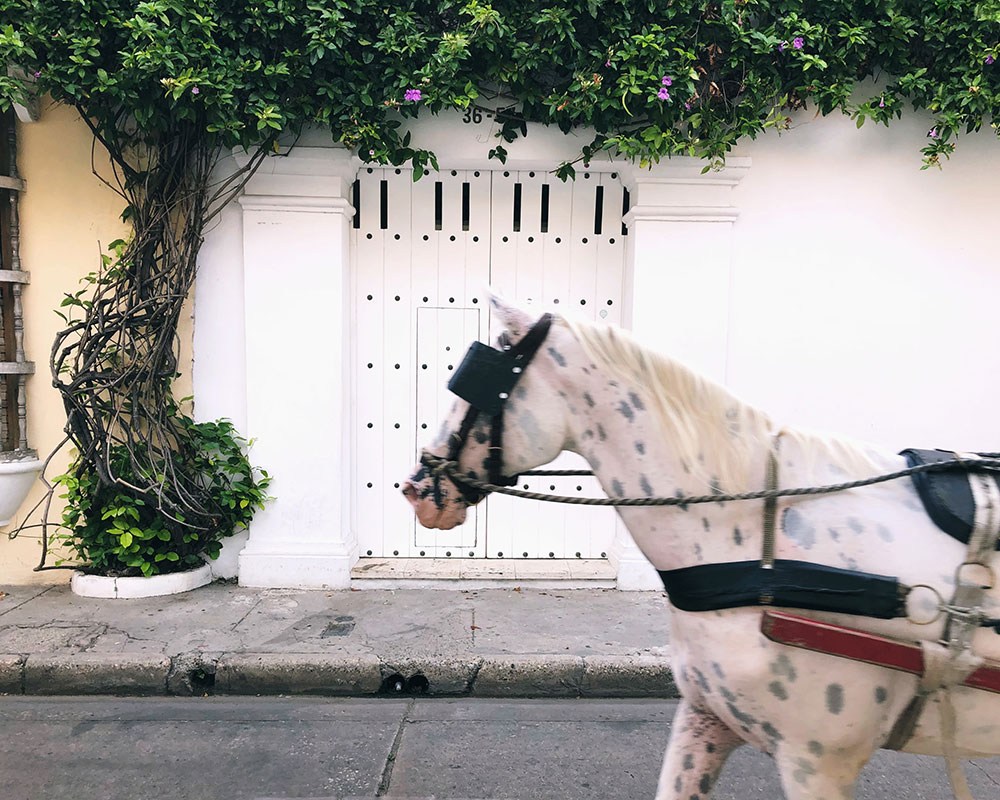 Where to work
Though we wouldn't recommend staying here, Selena Hostel is a popular place for young people working remotely. That being the case, they are set up with great facilities (and fast wifi). They have decent food and you will inevitably meet someone who knows someone who knows someone you used to work with.
A large space with great wifi and lots of outlets. You wouldn't think that these 3 qualities are super hard to find in a place like Cartagena, but you would be wrong. This cafe is a diamond in the rough, and a true gift when we need to power through some work.
Part bookstore, part coffee shop – Abacus is absolutely adorable. The wifi isn't super reliable, but that doesn't really matter when you are surrounded by tall shelves housing hundreds of books. We aren't going to lie – it's also one of our favorite places to take an IG photo. Come here for good coffee and solitude when you need to focus (but make it cute).
Summary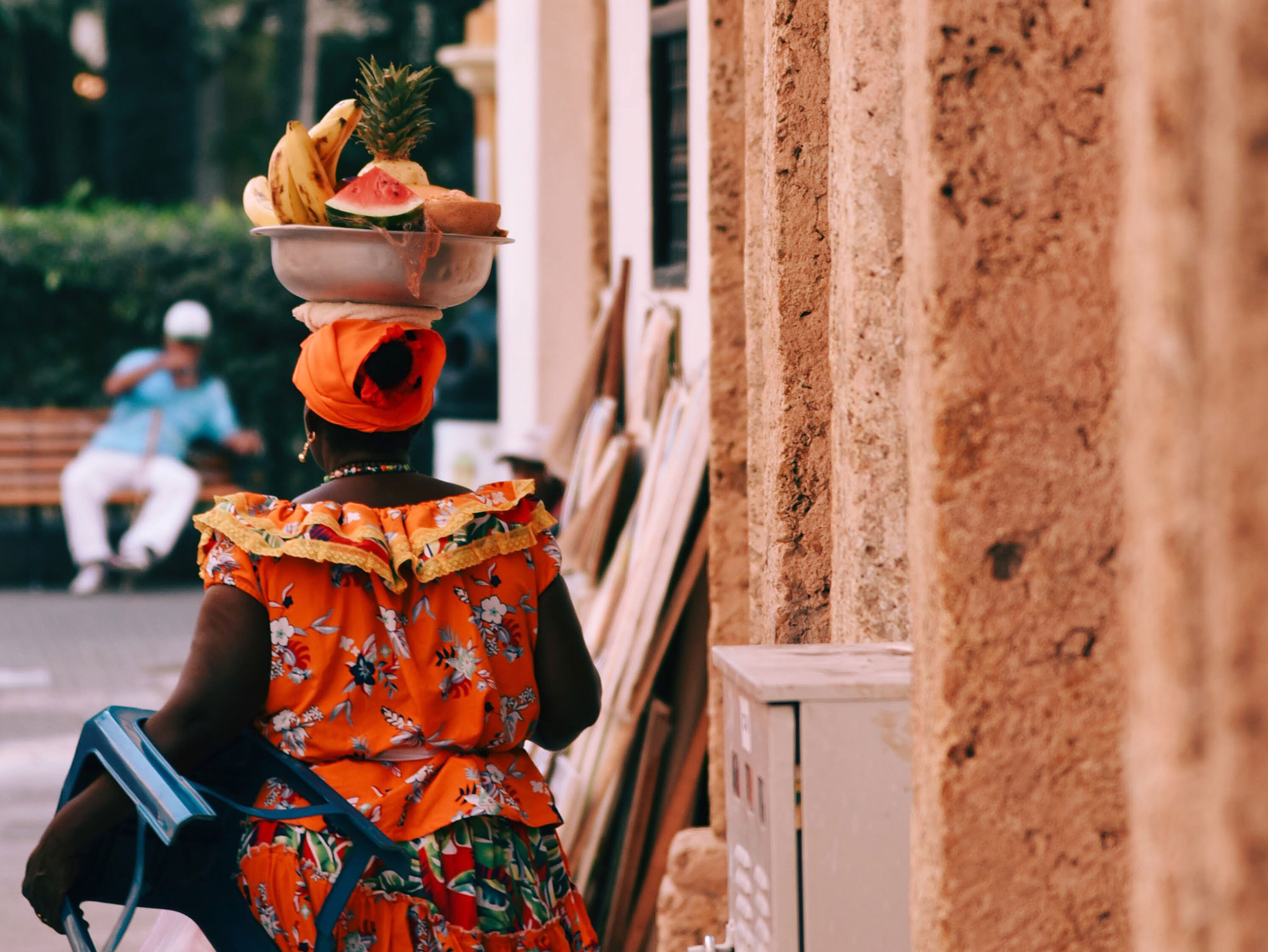 Article Name
Description
This Insider's guide to Cartagena will help you discover highly-recommended restaurants, bars, cafes, hotels, attractions, and shopping in this incredible city!