Five reasons to visit Florence, Italy (from a brand guru)
We started Safara because we love to travel. We love that it opens our minds to new people, cultures, and ideas. It builds human connection. It sparks creativity and it fuels the global economy. We live and breathe this – we're a global, remote team with a unified goal: to make travel easier, more efficient, and barrier-free.
During this crazy time, that human connection we mentioned is a little compromised, right? In the meantime, we want to be your window to the world, bringing you stories and inspiration from our global community of tastemakers. Our Insiders, who are also stuck at home and pining for their usual local haunts, have been thrilled to share reasons to add their neighborhood to your post-Covid travel plans. We're going for the gold re: global coverage, and hope that you'll find some new locals to try ASAP post-lockdown, too.
Next up in our 'Five Reasons' series is Emilie Hawtin, a writer, editor, and brand strategist. She's a New Yorker, but travels for work a lot (pre-Covid, that is) and Italy is like her second home – she can't wait to go to Florence when this all ends.
Like Emilie, we're armchair traveling a lot these days, and planning for the future. We're taking this time to build out our bucket lists, not just because it's fun, but because it helps the industry we all love. By following and engaging with unique and local hotels, small businesses, and restaurants, we can collectively give them much-needed hope and encouragement during this strange and abnormally difficult time.
Read on to travel (virtually) with Emilie to the best spots in the beautiful Florence…
Name: Emilie Hawtin
Where you live: West Village, Manhattan
Where you're from: New Jersey
What you do: Brand strategy, writing, and editing in the style world between New York and Italy
Follow Emilie on Instagram
Five reasons to visit Florence
The bar: Natural wine at Il Santino, a tiny bar that serves 'cicchetti' with every glass. Everything is delicious, the staff is young, cool, and dedicated. It's no easy feat to find good bread in Florence – they have some of the best and very fresh ingredients. I'll have their delicious small plates as a meal if I miss the strict Florentine lunch hours or feel like a light dinner. It's a special feeling there. Everyone spills out onto the street to drink wine and talk, free of cars or crowds. It's a feeling I've never had anywhere else.

The food: Lunch and dinner at Trattoria Cammillo. It's family-run and elegant yet easeful, light, and airy. Each generation is there working, the staff is spirited and kind. It's a stylish classic for the classics––pasta and meat––but I love unexpected things like their risotto with curried shrimp, something I'd never expect in Florence but is an al dente specialty of theirs – or the truffled eggs with mushrooms in the fall. Florence would never be the same without Cammillo. I go alone a lot or with anyone I care about, you remember every meal.
The cafe: Rivoire is one of my favorite places in the world. It's popular but I love to go early in the morning, walk across Piazza della Signoria and have cornetti at the counter. The cane chairs, wooden bar, silver capped bottles and formally dressed staff are beautiful to wake up to. Sometimes I actually sit down here, which feels indulgent, and the indifferent cashier is endearingly reassuring.
The things to do: The Boboli Garden has an understated grandeur that feels natural and calm. I love the faded colors on the buildings, woven throughout greenery and hidden in this sweet way. Faded mints and pinks that strike the right notes. I visit the porcelain museum often, at the top of the hill, the garden and fountain in front of it paired with the stunning view remain in my mind all of the time.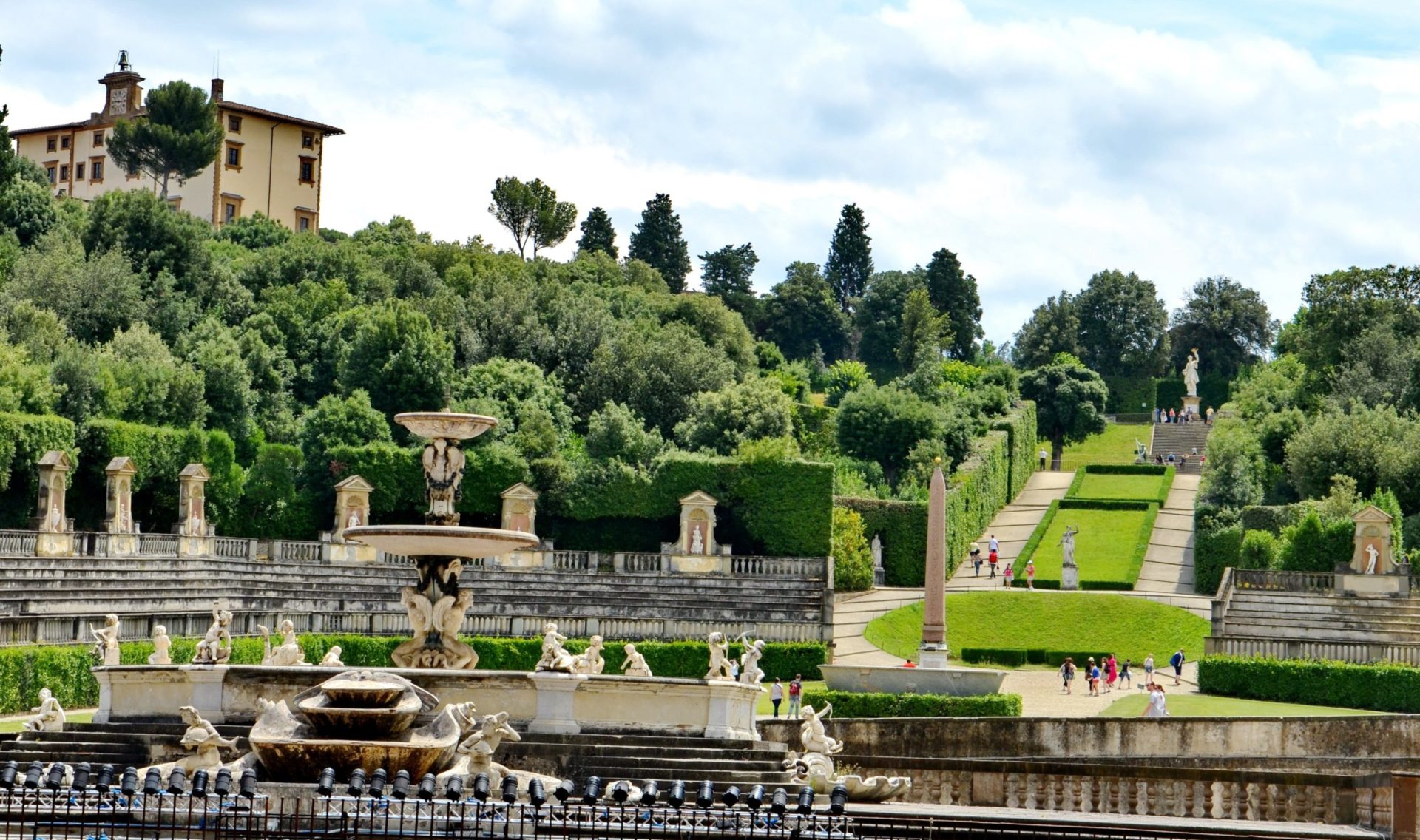 The stores: I'm excited to visit Bottega di Corte, a very tasteful and sprawling shop for everything from old porcelain to tassels, maps, silver, vintage clothes –– Italian chic interior design that's worn in perfectly. Dexter is another favorite to get men's shirts and lightweight pants I end up wearing all of the time – the owner, Marco, has a true elegance in style and demeanor. And, maybe most importantly, paper shops like Il Papiro, the Santo Spirito flea market, and the food markets.
Read more from our Five Reasons series here.