Five reasons to visit Greenpoint, Brooklyn (from a fashion stylist)
We started Safara because we love to travel. We love that it opens our minds to new people, cultures, and ideas. It builds human connection. It sparks creativity and it fuels the global economy. We live and breathe this – we're a global, remote team with a unified goal: to make it easier, more efficient, and barrier-free.
During this crazy time, that human connection we mentioned is a bit compromised, right? In the meantime, we want to be the window to your world, bringing you stories and inspiration from our global community of insiders and tastemakers. Next up in our 'Five Reasons' series is Haley Loewenthal on why she thinks Greenpoint in Brooklyn should be top of your list when visiting the Big Apple (Brooklyn is the new Manhattan, after all). Like you, we're armchair traveling a lot these days, and planning for the future.
Haley's from New Jersey, but now lives in Greenpoint with husband Alan – a furniture dealer, designer and founder of sustainable fashion brand, Everyone Wins. Haley is a fashion stylist with an incredible eye for cult brands – she's worked with the likes of Moda Operandi, Timo Weiland, and NYLON, to name a few. She's also travel obsessed and loves nothing more than hopping on a plane with Alan to explore somewhere new (or to visit Jamaica, it's their fave!)
We're taking this time to build out our bucket lists, not just because it's fun, but because it helps the industry we all love. By following and engaging with unique and local hotels, small businesses, and restaurants, we can collectively give them much-needed hope and encouragement during this strange and abnormally difficult time.
Read on to travel (virtually) with Haley to the best spots in hip Greenpoint…
Name: Haley Loewenthal
Where you live: Greenpoint, Brooklyn
Where you're from: New Jersey
What you do: Fashion stylist, travel enthusiast
Five reasons to visit Greenpoint, Brooklyn
The food: For brunch, my ultimate favorite is Glasserie. They do an amazing seasonal mezze brunch that is so fun to enjoy with a group of friends – both the food and the group of friends are things I am very much looking forward to after all this!

For dinner, Alameda is THE spot! It's the true definition of a neighborhood joint where you get to know your servers and have a go-to cocktail. I especially love it here in the summertime sitting outside people-watching with a bottle of orange wine and some elevated comfort food.

For drinks, Archilles Heel is a must. It's off the beaten path in Greenpoint and makes you feel like you've found a true treasure. From the crew behind Marlow & Sons and Diner, it makes sense that this bar makes you feel cooler than you are sipping on a whiskey tucked away in a private booth with an amazing soundtrack humming in the background.

The Donuts: It's not a trip to Greenpoint without indulging in donuts and coffee at Peter Pan. I love sitting at the counter of this old-school bakery pretending it's the 1950s.
The hotel: The Wythe Hotel is where I recommend my out of town friends and family to stay. It has the right amount of boutique charm, an amazing rooftop bar, and a great restaurant. Its technically in North Williamsburg, but it makes for the perfect location to walk through the park into all your Greenpoint adventures.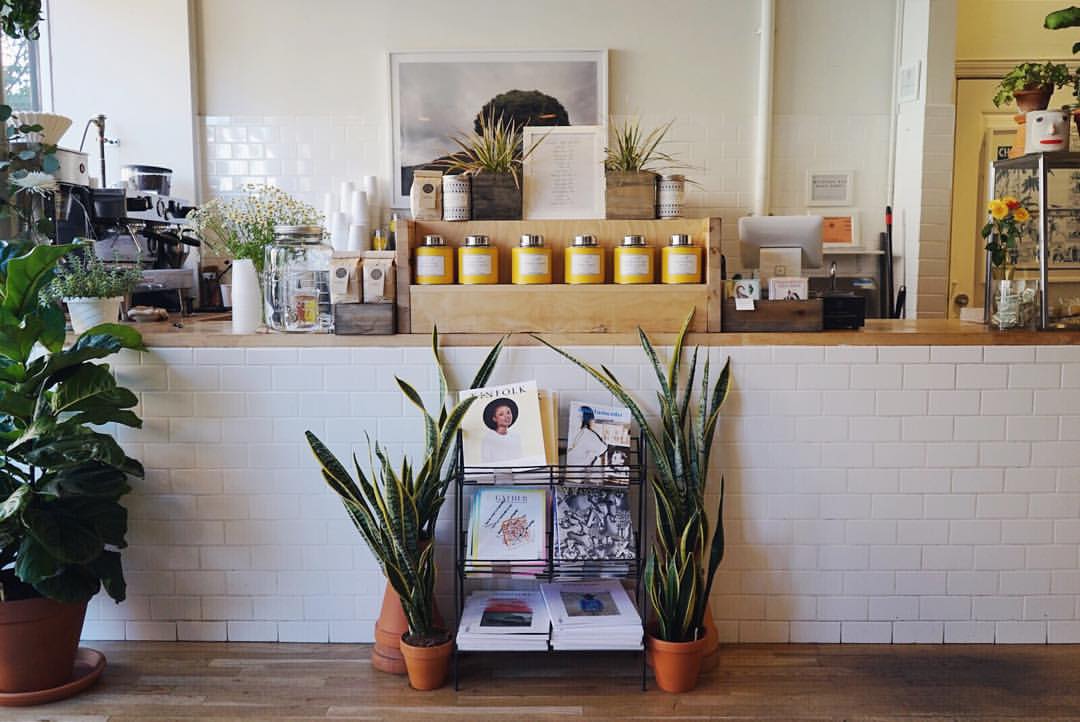 The store: I absolutely love Homecoming, a coffee shop / plant & home store. They have great coffee and the sweetest bouquets of flowers that make you want to fill your home.

Dream Fish and Tackle is my favorite for vintage home and furniture finds, plus records – and fish and tackle! This is a father-daughter run operation and lends itself to some serious treasure hunting.
The things to do: New Love City is a great yoga studio, the instructors all have different styles that come with their own unique and amazing approach and I've learned to love each one of them. The serene and homey space is so gorgeous that half the time during practice I end up mind wandering about how I would design the studio if it were my own apartment. A girl can dream!
Read more from our Five Reasons series here.