Five reasons to visit Madrid (from a New Yorker)
We started Safara because we love to travel. We love that it opens our minds to new people, cultures, and ideas. It builds human connection. It sparks creativity and it fuels the global economy. We live and breathe this – we're a global, remote team with a unified goal: to make it easier, more efficient, and barrier-free.
During this crazy time, that human connection we mentioned is a bit compromised, right? In the meantime, we want to be the window to your world, bringing you stories and inspiration from our global community of insiders and tastemakers. We're continuing our 'Five Reasons' series with the fabulous Jessica Hendricks Yee – who previously appeared as one of our Valentine's Day Insiders – on why she thinks Madrid should be top of your list when Spanish borders reopen. Like you, we're armchair traveling a lot these days, and planning for the future.
Jessica is the founder and designer of Zahava Jewlery and The Brave Collection, a Forbes 30 Under 30, a wife to Patrick, and a new mom to baby Ezra. They recently moved to Madrid to follow the living abroad dream, and have been experiencing being brand new parents in a brand new city.
We're taking this time to build out our bucket lists, not just because it's fun, but because it helps the industry we all love. By following and engaging with unique and local hotels, small businesses, and restaurants, we can collectively give them much-needed hope and encouragement during this strange and abnormally difficult time.
Read on to travel (virtually) with Jessica to the vibrant and culture-steeped Madrid…
Name: Jessica Hendricks Yee
Where you live: Justicia, Madrid
Where you're from: New York
What you do: Designer of Zahava, fine jewelry inspired by wisdom of the past.
Follow Jessica and Zahava for more inspiration.
Five reasons to visit Madrid
The hotel: Stay at the Urso Hotel –  my favorite boutique hotel in Madrid! You'll get so excited pulling up to this hotel as the architecture is stunning and it's on the perfect block. The lobby is the ideal place to people-watch while enjoying some Iberico and taking in the original Urso scent by candlelight.
The market: Just across the street from the Urso is our local Barcelo Market with tens of stalls with everything from fresh fish to meats to freshly baked baguettes, and it's a great way to get a sense of the local culture.

Pro tip: The organic fruit stall is killer but you mustn't touch the fruit! Point to what you'd like and the woman behind the counter will pull the perfect fruit for you with her gloved hand.
The bakery: The most divine bakery is La Duquesita. This hundred-something-year-old spot looks right out of a Wes Anderson film, and everything they make is out of this world delicious (and BEAUTIFUL!)
The things to do: Visit the wild peacocks in the sprawling and perfectly manicured El Retiro Park.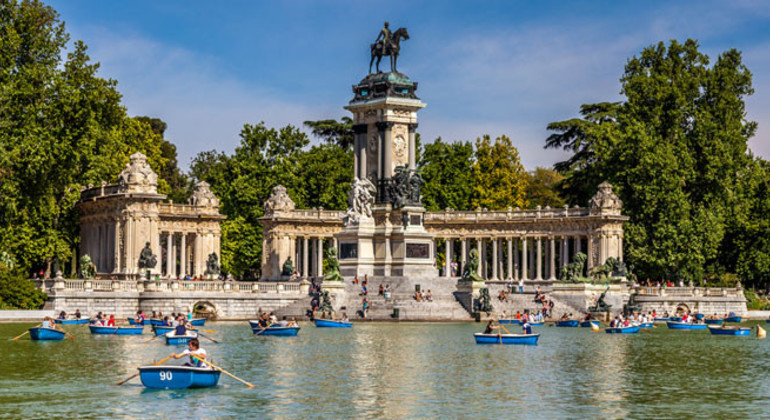 The food and drink: Try the razor clams at Sala de Despiece, the absolute coolest tapas bar. They don't take reservations so show up early, and don't wear a short skirt as half of the seats are only accessible by essentially limbo-ing under the communal table. Afterward, just across from our apartment is the best cocktail bar –  Supernova. It's a maze of tiny, impeccably designed rooms to sit, dance, and sip. It's chic as hell.
Read Five Reasons to Visit Palm Springs by Andrew Baker.