Five reasons to visit Singapore (from a comms director)
Communications director and Safara Insider Andrea Seifert gives us five reasons to visit Singapore after Covid-19, from hotels to stores to places to eat and drink.
We started Safara because we love to travel. We love that it opens our minds to new people, cultures, and ideas. It builds human connection. It sparks creativity and it fuels the global economy. We live and breathe this – we're a global, remote team with a unified goal: to make travel easier, more efficient, and barrier-free.
During this crazy time, that human connection we mentioned is a little compromised, right? In the meantime, we want to be your window to the world, bringing you stories and inspiration from our global community of tastemakers. Our Insiders, who are also stuck at home and pining for their usual local haunts, have been thrilled to share reasons to add their neighborhood to your post-Covid travel plans. We're going for the gold re: global coverage, and hope that you'll find some new locals to try ASAP post-lockdown, too.
Next up in our 'Five Reasons' series is Andrea Seifert. Despite being from Sweden, she's never lived there and instead was brought up between South America, Asia, and Europe by her nomadic parents. She's a communications director at a travel and lifestyle agency and now calls Singapore home.
Like Andrea, we're armchair traveling a lot these days, and planning for the future. We're taking this time to build out our bucket lists, not just because it's fun, but because it helps the industry we all love. By following and engaging with unique and local hotels, small businesses, and restaurants, we can collectively give them much-needed hope and encouragement during this strange and abnormally difficult time.
Read on to travel (virtually) with Andrea to the best spots in Singapore…
Name: Andrea Seifert
Where you live: Sunny Singapore! I live in an area between Little India and Orchard Road, and work in Chinatown.
Where you're from: Sweden, although I've never lived there, I was born to nomadic parents and grew up in South America, Asia, and Europe.
What you do: Associate Director for Singapore at The Mango Agency a boutique luxury travel and lifestyle communications agency and Singapore Resident Editor for The LUXE City Guides.
Follow Andrea on Instagram here and here.
Five reasons to visit Singapore
The Food: Chinatown is just packed with amazing places to eat, drink and be merry. Nouri is the place for special evenings diving into Chef Ivan's creative fare using produce from his farm in Malaysia, whilst Maggie Joans is my go-to for indulgent, languorous lunches with the girls. The entrance is tucked away in a back alley and I love bringing newbies there – it feels like a cozy Parisian or London bistro.
The hotel: Six Senses Singapore. With two petite locations in heritage buildings around the corner from one another, the brand's first foray into urban settings (they're usually in far-flung destinations) has been a welcome addition to the neighborhood. The brand stands for wellness and sustainability, and they definitely walk the walk.

Upon arrival, step into the oversized Tibetan singing bowl at the entrance to get some healing vibes before your consultation with the resident Traditional Chinese Physician to ensure your chi is flowing nicely. You'll find the sustainability manager tending to the little 'bee hotel' on the rooftop garden next to the pool, pruning plants and herbs, or teaching guests how to make DIY hydrosol sprays from citrus remnants upcycled from the bar.

At the Duxton location, the Yellow Pot restaurant is where I take visitors for elevated yet healthy Chinese food (no MSG!). Rooms here employ a distinctly moody, dark Chinoiserie look, pulled together by the inimitable Anouska Hempel. Over at Six Senses Maxwell, designed by Jacques Garcia, the aesthetic is equally opulent with rich jewel-toned palettes and velvet upholstery. Indulge in a tipple or two at the champagne bar.
The store: The Social Space is on Kreta Ayer and is a gorgeous little cafe-come-social enterprise, featuring local and ethical brands to shop and lovely teas to sip and savor. Hidden in the back is The Nail Social, a peaceful mani-pedi spot using eco-friendly polish and providing training and employment to marginalized women. A divine respite on a quiet side street for some me-time or to catch up with a friend over a warm cuppa.
The things to do: Barre Lab is my go-to workout on Duxton Road to plie away my sins. The little studio has small classes and great instructors who correct your form and keep you motivated – while reducing your thighs to a quivering mess! I also love the Nithya Priyan School of Yoga for its structured curriculum of learning yoga asana, and alignment-based teachings by skilled yogis.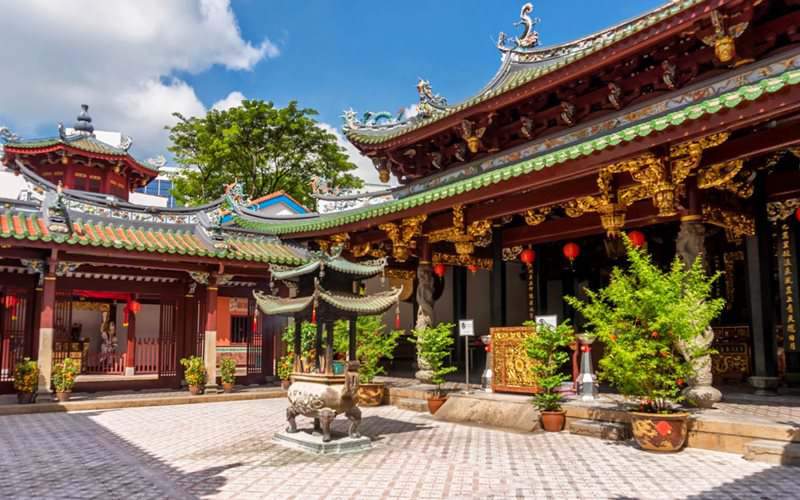 The culture: Telok Ayer Street is one of my absolute favorite streets in Singapore. A vibrant stretch of old-meets-new, you'll find hipster coffee shops, packed bars, Michelin star restaurants, antique hole-in-the-wall shopfronts as well as places of worship and cultural heritage sites. The Thian Hock Keng Temple is the oldest Chinese temple in Singapore, constructed in 1839. Sometimes you'll see the priest in his robes wandering along the road, which always feels a bit special.
Read more from our Five Reasons series here.